Exclusive: 4K Triple-Laser Projectors : Triple Laser Projector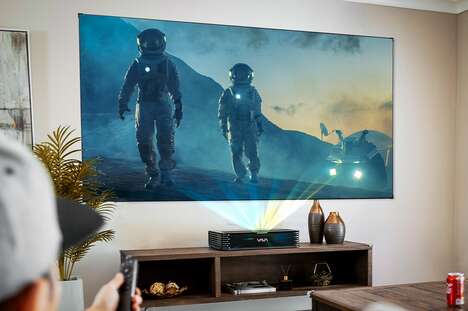 The VAVA Chroma Triple Laser Projector is an immersive, all-in-one entertainment hardware solution for avid movie and TV show aficionados looking for a way to enjoy their favorite content in an advanced manner. The projector is characterized by its namesake triple-laser technology that promises to deliver 4K UHD resolution that measures in at 120-inches. The system is outfitted with a pair of 30W Harman Kardon speakers to fill the space with audio and potentially eliminate the need for external sound systems.
The VAVA Chroma Triple Laser Projector has been designed by Chengmin Lee and only requires a clearance of 7.2-inches from the wall to achieve a 100-inch image. Users can also adjust the unit to enjoy screens up to 150-inches in size.