Exclusive: AI-Driven Invoicing Technologies : Scrypt AI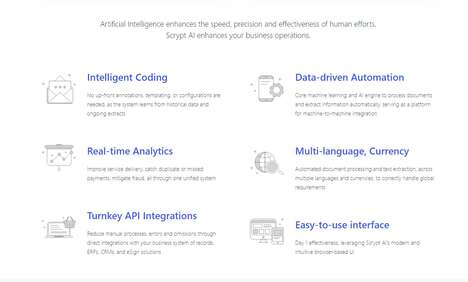 Scrypt AI is an invoicing software that uses cognitive automation to helps businesses make accounting more accurate and efficient. The platform offers services for both Accounts Payable (AP) and Accounts Receivable (AP). Scrypt AI's AP platform provides a Universal Invoice Hub that comes equipped with a robust set of tools to manage accounting, transactions, and documents. The AR platform automatically processes payments from end to end using automation software and predictive analytics.
Scrypt AI draws on cognitive automation–a combination of artificial intelligence, machine learning, and big data that mimics human behavior and employs adaptive decision-making–to revolutionize the AP process. This automation software precisely performs the mundane, repetitive tasks associated with accounting, resulting in increased productivity and fewer errors. Due to the lack of human teams, Scrypt AI's software can be effortlessly scaled up alongside businesses.
Image Credit: Scrypt AI