Exclusive: AI-Powered B2B Platforms : Metal Networks.AI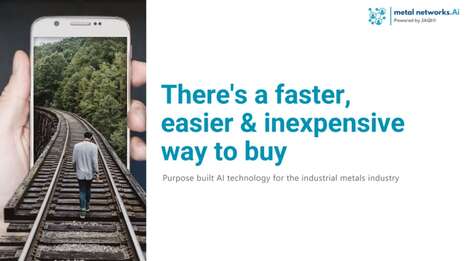 Metal Networks.AI is a B2B platform that is designed to connect buyers to suppliers in the industrial metal sector through its AI-powered technology. The platform provides a built-in search engine called JAQI, an AI Buyer Assistant, that optimizes supplier sourcing. Metal Networks.AI's proprietary engine uses artificial intelligence and machine learning to rapidly evaluate metal orders, find matches in close to real-time, and generate quotes for the sales associate to pass onto the buyer. This system takes the guesswork out of sourcing and cuts down on fruitless time spent combing for matches within traditional search engines.
Metal Network.AI's B2B cloud-based platform provides timely tools that streamline buying and selling industrial metal without additional costs and fees. The platform centralizes B2B interactions, creating a place for buyers and sellers to quickly connect online. Metal Network.AI's innovative tools are sold on a subscription basis.
Image Credit: Metal Networks.AI