Exclusive: Coffee Bean Electric Guitars : Coffee Bean Electric Guitar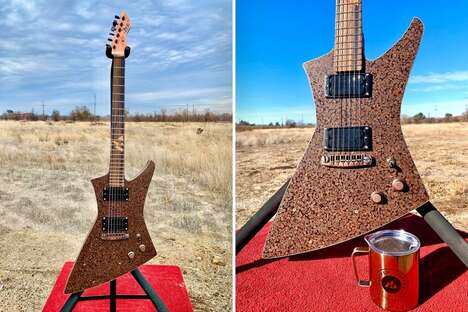 Coffee lovers listen up, because this coffee bean electric guitar built by YouTuber and guitar aficionado, Burls Art, is made with 5,000 roasted beans suspended in epoxy. Burls Art designed the delicious-smelling guitar as a gift for his friend's company, Copper Coffee.
The guitar is completely functional and proudly showcases the beans and their unique texture, created by grinding down the surface until smooth. The speckled, dark cork-like texture is modeled in the shape of a Gibson Explorer. The handmade fretboard features the Copper Coffee logo. The headstock is also built by hand, and copper accents can be found in various spots on the guitar—a tribute to the company it is gifted to.
If properly preserved and maintained, the coffee bean electric guitar is estimated to last for over a decade long.
Image Credit: Yanko Design