Exclusive: Collaborative Online Whiteboard Tools : figjam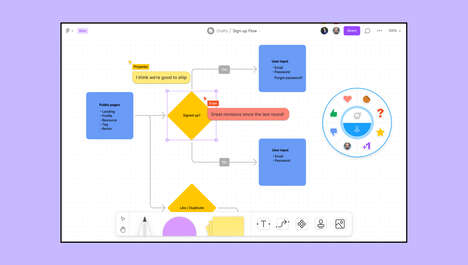 With the demand for efficient virtual workflow and collaboration tools at an all-time high, Figma offers FigJam, a virtual whiteboard application that helps teams brainstorm ideas with interactive and intuitive tools. The program allows users to draw from a selection of preset templates as well as custom designs to visually arrange and curate ideas in an expansive virtual space. Users can live-react to others' ideas simply by typing messages onto the board or by posting emojis, stamps, or stickers.
Besides brainstorming, FigJam can be used to map out workflows, host live workshops, create mood boards, and more. It also seamlessly integrates into and shares assets with its parent product, Figma, for extended collaboration. FigJam is currently free to try while in beta but will move to an eight- or fifteen-dollar subscription fee, depending on desired features, upon release in 2022.
Image Credit: Figma