Exclusive: Dazzling Imagery Laser TVs : Hisense L9G TriChroma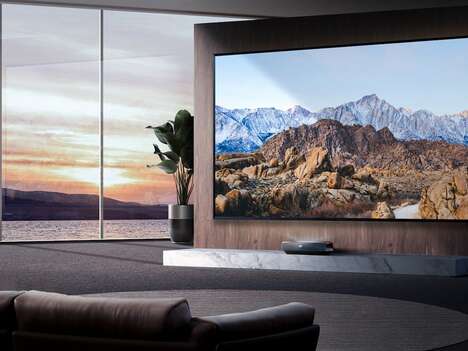 The Hisense L9G TriChroma laser TV is a living room entertainment hardware solution for consumers looking to enjoy an immersive experience each day without the need for conventional equipment. The unit is characterized by its compact size, but is capable of pumping out 3,000 lumens of brightness to provide dazzling imagery that includes bold colors and deep, rich blacks. The unit makes use of MEMC technology to offer performance that's rated as being 10-times quicker than an OLED TV.
The Hisense L9G TriChroma laser TV comes in two size options to choose from including 110-inches and 120-inches, and will function effectively no matter how much ambient light is in a space. The unit is also paired with proximity sensors to dim the lasers to make it suitable for use in home with children, while Dolby Atmos sound offers clear speech and crisp highs.