Exclusive: Digital Wedding Stickers : wedding stickers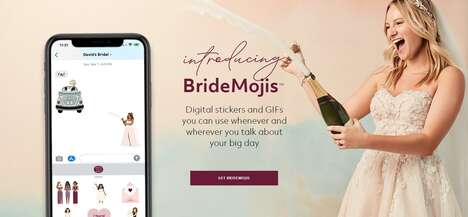 BrideMojis are the new digital wedding stickers and GIFs from David's Bridal and they were created to support modern brides who want to add a fun way to personalize their wedding planning process and social media content. The fun and interactive digital stickers for brides can be added to text messages and Instagram Stories, as well as interactions on TikTok and Snapchat.
Perfect for sharing the excitement with an audience on social media or a tight-knit group of bridesmaids, the digital wedding stickers include fun icons that depict wedding parties, finding the perfect dress, driving away for the first time as newlyweds, bouquets of flowers and more. Alongside the stickers for flower girls, invitations and champagne, there are also a few special Quinceañera stickers.