Exclusive: Diminutive High-Fidelity Speakers : high-fidelity speaker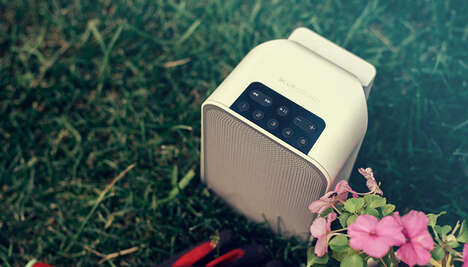 The Pulse Flex 2i is a spectacular high-fidelity speaker that well and truly swats away the notion that 'size matters' with utter disdain, providing sound that is surprisingly loud and unbelievably clean across frequencies, all from a package that works just as well at the park or by the pool as it does as part of a pair of speakers in your home audio setup.
At first glance, you could be forgiven for thinking that this is a speaker whose primary appeal lies in its elegantly avant-garde design and ability to seamlessly blend in with your home decor, but power this Bluesound creation up and you'll be left picking your jaw up from the floor as a result of the scarcely believable sound quality emanating from such a diminutive package. Once you recover from the state of aural denial, you may find yourself tempted to listen to tracks from different genres of music in an attempt to find an inevitable flaw, be it a slightly tinny high, a muddled bass or a scratchy high-volume output. Then finally, once the experimentation is completed and you're done pinching yourself, you'll likely find yourself making that ugliest of ugly stink-face expressions associated with a truly ecstatic music-listening binge.
For far too long, audiophiles have been forced to make unsavory compromises on either speaker size, sound quality, ease of use and ability to be networked with other speakers. When they do stumble upon a speaker that has all of those highly desired traits, the cost is exorbitant. However, at $399, the Pulse Flex 2i truly lets you have your cake and eat it too.
It's difficult to overstate just how surprising the speaker's output is both in terms of volume as well as clarity. Put on 'Kind of Blue' by Miles Davis and the silky trumpet licks and ethereal piano notes will make you feel like you've been transported to a smoky subterranean jazz bar in 1950s New York, or perhaps amp things up with a headbanging session to 'Master of Puppets,' the crunching guitars and thumping drums making you feel like you've just climbed your way out of a sweaty mosh pit at one of Metallica's notorious late-1980s shows. Hip-hop lovers will certainly be well advised to listen to Kendrick Lamar's 'Alright,' the searing vocal bars meshing in perfectly with the soothing trumpet and distinctively thin snare. Best of all, these speakers genuinely create no distortion even at a maximum volume, although this is something you'll rarely need to test because turning up the volume just a third of the way is enough for a condo party.
What's great about the Pulse Flex 2i high-fidelity speakers is that they let you dive straight into the previously described state of bliss with minimal ado, just because of how incredibly easy the setup is. Simply connect the speaker to your WiFi network, whip open the BluOS Controller app and you'll be tampering with audio settings, programming in your presets and organizing your playlists in minutes.
While it's easy to wax lyrical about the magnificent music-listening experience that this high-fidelity speaker provides, it's important to note that the BluOS Controller app also lets you quickly and easily play podcasts and listen to your favourite radio stations through the speakers, making them the go-to for all your audio needs.
These speakers also offer phenomenal flexibility in terms of use cases. For a day out at a park BBQ, attach the $99 Pulse Flex battery pack and you can make use of Bluetooth to keep the music going via your phone. To create a home audio setup that will make your neighbours quiver with envy, just grab two of the Pulse Flex 2i speakers and pair them together or, better yet, integrate the Pulse Soundbar 2i or Powernode 2i to create an immersive surround sound system that's perfect for watching movies.
Compact, portable, wireless, stylish and most importantly promising spectacular high-fidelity sound, the Pulse Flex 2i is a true gem of a speaker and a genuine rarity in the quality and performance that it offers at its price range.