Exclusive: Energy-Capturing Beach Umbrellas : beach umbrella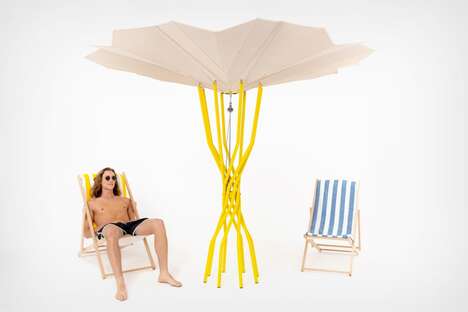 This Sammontana beach umbrella has been designed in collaboration between Carlo Ratti Associati and Italo Rota as an eco-friendly solution for beachgoers that would work to capture energy as it offers shade.
The umbrella features an origami-inspired design that takes after the aesthetic of NASA spacecrafts that would open to reveal a photovoltaic array on the top portion. The unit would thus capture solar energy for powering up smartphones or even keeping a freezer for Sammontana ice cream chilled.
The Sammontana beach umbrella was explained further by Head of Communication and Image at Sammontana Italia Sibilla Bagnoli who said, "The project builds on Sammontana's objective to lower the environmental impact potentially applicable to Italian beaches – which are the iconic backdrops where Sammontana is served, marking the most pleasant and joyful moments of summer. For many years, our company has been focusing on such special environments, experimenting with new ways to welcome the public, manage services and innovate while protecting the environment."