Exclusive: Ferrofluid Speakers : Ferrofluid speaker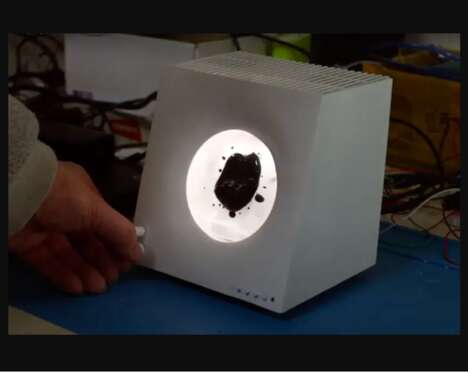 Made by Dakd Jung, the ferrofluid speaker reacts to an electromagnetic device and moves with the music that is played from the speaker, making for an interactive music-playing experience.
Ferrofluid was originally designed by NASA for fueling rocket engines in a gravity-free environment. Since its conception, artists and engineers have taken to incorporating the messy substance in their products, as Jung has done with the ferrofluid speaker.
Jung's construction process involves treating the glass container to keep the ferrofluid from sticking to its sides, sanding down the 3D printed casing, and wiring up the device. The speaker prototype had to be designed so that sound escapes upwards for maximum efficiency. Jung's ferrofluid speaker boasts LED lights and a wireless Bluetooth connection. Thus far, the prototype is still under development.
Image Credit: The Verge