Exclusive: High-Capacity Transportation Drones : Kelekona eVTOL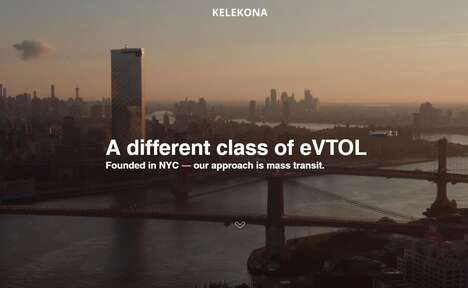 The Kelekona eVTOL (electric vertical take-off and landing) aims to revolutionize the mass transit industry with its sleek, high-capacity drone bus concept. The futuristic drone bus features a 3D printed composite and aluminum exterior that is designed for high-performance aerodynamics. The Kelekona eVTOL is controlled by eight thrust vectoring fans that can be set for every stage of flight from takeoff to landing. The gargantuan drone is powered by a powerful modular battery pack that has 3.6-megawatt hours of capacity.
The Kelekona eVTOL will seat up to 40 passengers or carry up to 10,000 lbs. of cargo. The VTOL design of the drone allows it to land on rooftop helipads, increasing its usability and accessibility in urban environments. The drone bus ticket will likely price in at $85 with flights from Manhattan to the Hamptons, Boston to New York, New York to Washington, D.C., and Los Angeles to San Francisco. While the Kelekona eVTOL has not yet started physical production, it is expected to be released in 2022.
Image Credit: Kelekona