Exclusive: Magnetic Wireless Chargers : Magdart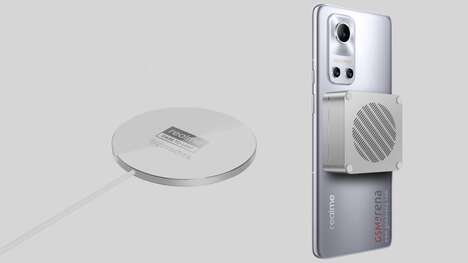 Chinese smartphone manufacturer Realme has announced 'Magdart,' a line of wireless, multi-device, magnetic chargers. The company has unveiled two different versions of the product – a compact, circular unit and a larger, fan-powered cube.
Both products can be attached to the back of a variety of wireless devices, including phones, laptops, and wearables. According to Realme, the larger, cube-like charger can produce over 15W of charging power due to "better thermal management." Designed with versatility in mind, these charges can also be used both as stationary pads, charging multiple devices at once.
It appears that with the release of this convenient charging technology, Realme intends to offer customers a viable alternative to similar Apple-made products. The 'Magdart' release will coincide with Realme's launch of the 'Realme Flash' smartphone on August 3rd.
Image Credit: Aakash Jhaveri, Realme