Exclusive: Pizza-Themed Seltzer Packs : Bud Light Seltzer Pizza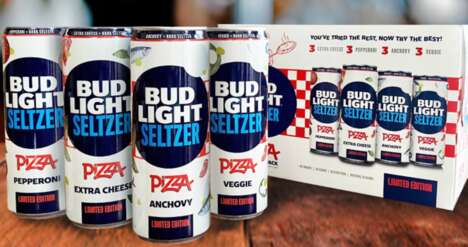 To poke some fun at the influx of new hard seltzer flavors that have hit store shelves ahead of the year's warmer months, the Bud Light Seltzer Pizza Variety Pack was unveiled.
A playful take on hard seltzer flavors, the brand offers up a nightmarish take on innovation gone too far, featuring flavors like Extra Cheese, Pepperoni, Anchovy, and Veggie. Though there's sure to be a few pizza fanatics that might actually enjoy a cheesy hard seltzer, the brand takes the occasion to celebrate the annual custom in an engaging way, while also bringing more attention to its real variety packs that feature much better flavors. This includes its Out of Office Variety Pack, which spotlights flavors like Watermelon Mojito, Classic Margarita, Mango Mai Tai, and Strawberry Daiquiri.
Image Credit: Bud Light