Exclusive: Recycled Water Jug Lamps : Tripod Lamps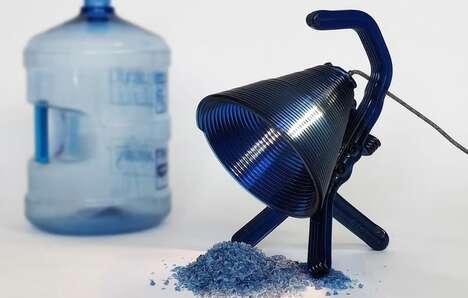 Post Industrial Crafts created the Tripod Lamps out of recycled water jugs. The Lebanon-based company used a unique production method to assemble and construct the lamps.
Made from 5-gallon water bottles, the Tripod Lamps boasts three legs and a simplistically shaped shading cone for maximum stability. Ideal for a side table or floor lamp, the Tripod is easily transported with its sturdy handle. The shading cone directs and filters the light to illuminate all spaces.
The lamps are constructed using a 5D printing process. Using a large-scale robot arm dubbed Hayete, meaning "My Life" in Arabic, the arm lays a line of molten local recycled plastic along a parametrically set path. The plastic self-sets as it cools and forms the lamp's shape.
Image Credit: Post Industrial Crafts