Exclusive: Restaurant-Branded French Fry Apps : French Fry Identifying App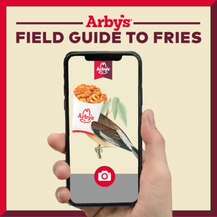 To celebrate Nation French Fry Day, Arby's is launching a french fry identifying app with Artificial Intelligence technology. The app will serve as a "Field Guide to Fries" to help users identify what type of french fry they are eating. The restaurant-branded app's advanced algorithm allows users to snap and upload photos of their fries. Users will then discover whether the fries full under the Curly, Crinkle, or Common category.
The app also notifies the user when it detects an object that is not a french fry at all. Interestingly, Arby's team was inspired by modern birdwatching apps that identify birds in the wild to create its own detecting technology. Fry enthusiasts can enjoy the humorously scientific "Fry Taxonomy" on their mobile phones.
Image Credit: Arby's