Exclusive: Retro Mini Arcade Machines : Egret II Mini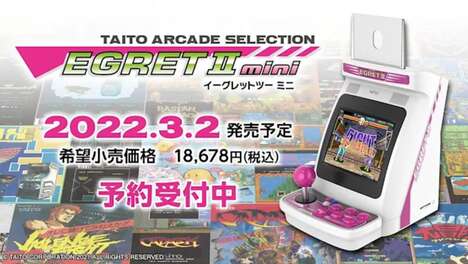 The Egret II Mini is a mini arcade machine that features a retro rotating display that facilitates both vertical and horizontal aspect ratios. This rotating function allows the arcade machine to run games in both tall and wide modes depending on the title. The Egret II Mini comes with 40 preloaded games including classics like Space Invaders, Bubble Bobble, Lunar Rescue, and Metal Black.
The Egret II Mini has a vintage arcade look and feel with a ball-topped joystick and a purple and grey color scheme. The arcade machine can be outfitted with add-ons, such as an expansion controller that comes with 10 more games, an extra arcade stick, and a gamepad. The arcade machine can be played with headphones in or connected to a TV through its HDMI port. The Egret II Mini ships within Japan on March 22nd, 2022.
Image Credit: Taito