Exclusive: Retro Video Game Emulators : evercade vs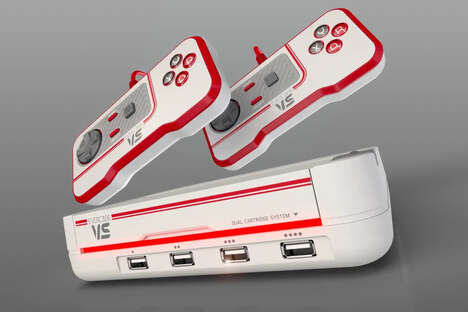 Gamers can find their retro release in the Evercade VS, a console-based emulator that is steeped in nostalgia. Drawing inspiration from the N64 and other archaic consoles, the Evercade VS has a distinct, retro design that adds a dash of modernity to the aging platform through its high-definition graphics. Made to be played with friends, the console uses an easy plug-and-play multiplayer system that supports up to four players at a time.
The Evercade VS controllers combine an authentic retro look with ergonomic efficiency in the classic A/B/Y/X button format. Conveniently, the Evercade Handheld can be hooked up as a compatible controller. Building on the retro feel, the console uses old-timey game cartridges, sold by Evercade, to load games, with a current selection of 280+ retro games. The Evercade VS is available for pre-order only at this time.
Image Credit: Evercade