Exclusive: Sci-Fi-Inspired Gaming Mouses : Mouse-1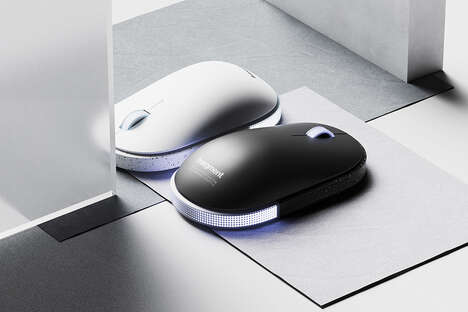 The conceptual 'Mouse-1' wireless gaming mouse has been designed by Jake Lee of acasso for fraegment as a peripheral for avid gamers looking to incorporate a minimalist touch of sci-fi aesthetics into their desktop setup.
The mouse comes in response to the large number of RGB-enabled gaming mouses that are available on the market and provides users with a decidedly more stylishly simplistic alternative. The mouse is thus designed with an LED on the rear bottom of the device that will diffuse white light in a more subtle manner when compared to other, more chromatic alternatives on the market.
The conceptual 'Mouse-1' wireless gaming mouse was was explained further by Lee who said, "The goal was to design a mouse that carries the gaming DNA in a more subtle and minimalist manner. There are so many gaming mice that scream rainbow RGB lighting with complex programmable buttons that contribute to their maximalist appearance. Mouse-1's aesthetics is intentionally aimed at those who pursue a minimalist gaming setup."