Exclusive: Smart Home Coffee Makers : Smart WiFi Coffee Maker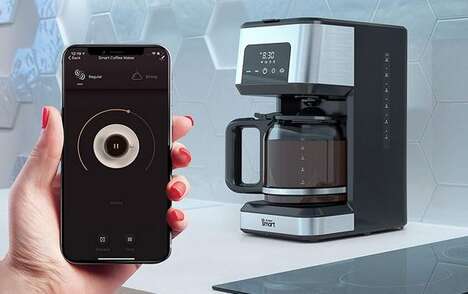 The Atomi Smart WiFi Coffee Maker is a connected home-friendly appliance for the kitchen that will work to maximize efficiency for inhabitants by enabling them to toggle brewing at their leisure. The countertop appliance features an LED display and control panel for intuitively keeping an eye on functionality, but truly shines with the accompanying smartphone app. Users can toggle brewing, keep an eye on how it's going and more to maximize efficiency in the kitchen.
The Atomi Smart WiFi Coffee Maker offers voice assistant connectivity to let it be used with Amazon Alexa and Google Assistant to further enhance ease of use for operators. The system comes with a reusable filter and a 12-cup glass carafe.