Exclusive: Sound-Adaptive Wireless Headphones : pi7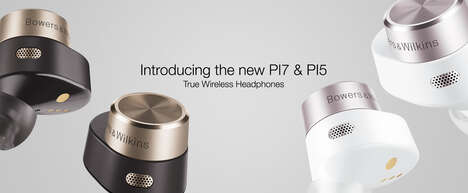 Bowers & Wilkins' latest audio offering, the PI7 true wireless headphones, is a marvel of sophistication–visually and aurally. The luxurious-looking in-ear headphones bring high-end sound quality through the Dual Hybrid Drive units, which have individual amplifiers. Topping up the PI7s' performance, a 24-bit connection and inbuilt Qualcomm aptX technology dynamically optimize the audio output during use. Adaptive noise-canceling technology is also employed to drown out exterior distractions and deliver a pure audio experience.
The Bluetooth-enabled PI7s have a total of six internal microphones that keep audio quality on calls consistent and clear. The headphones come with a USB-operable charging case that delivers quick charging times. The case also has a unique feature where it can retransmit audio to the headphones from sources it's plugged into. The PI7s come in two clean colors: white and charcoal.
Image Credit: Bowers & Wilkins