Exclusive: Tactical Compact CBRN Wearables : CH15 Escape Hood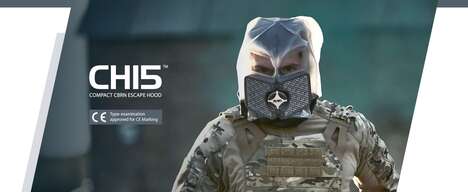 The CH15 Escape Hood, from military and industrial gear company Avon Protection, is a ready-to-wear piece of protective headgear designed to handle CBRN emergencies. The hood can be equipped in under 10 seconds and offers a full range of respiratory, vision, and facial protection for at least 15 minutes. The CH15 Escape Hood allows military and rescue personnel to remain ready and prepared for disaster situations.
The CH15 Escape Hood has a one-size-fits-all design that works for practically any adult. The headgear can be worn over glasses and has a neck seal to maintain the hood's efficacy for those with beards. The CH15 Escape Hood is highly portable as it's contained in an emergency-ready compact carrying case that can fit in pockets or backpacks.
Image Credit: Core77, Avon Protection