Exclusive: Wooden Stereo Speaker Systems : space of bass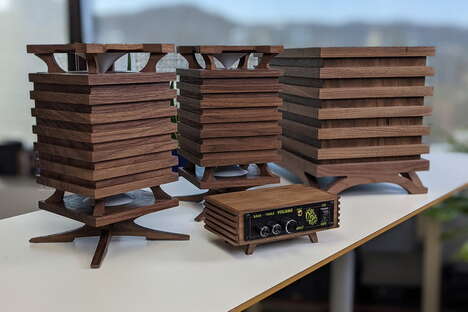 The Space of Bass stereo speaker system, designed by Portland-based audio architect Ezra Crimino-Hurt, looks like a work of art. Spawned by a flood of extraneous audio parts, the speaker system is wrapped in refined wooden paneling, allowing it to gently blend into the background of any home interior.
While the finish makes the Space of Bass a good option for home decorating, the sound quality is still top-notch. The stereo system is made up of a pair of subwoofers and an amp that deliver high-quality, high-performance sound using a 4-inch down-firing midbass driver and a 1-inch up-firing tweeter. The audio equipment offers omnidirectional sound that permeates the room and adds character and richness to any track. Crimino-Hurt plans to sell a limited run of around 10 Space of Bass stereo speaker systems.
Image Credit: Digital Trends / Instagram